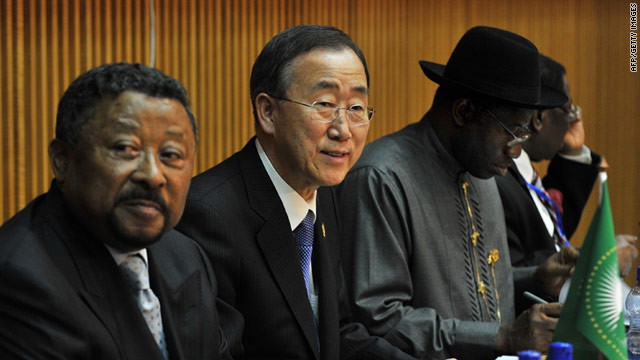 -- African Union officials will name five heads of state to work on a solution to the Ivory Coast election standoff and report their findings in a month, a spokeswoman said Sunday.
The panel, which will get support from experts, will consult and come up with a way to settle the dispute, said Esther Tankou, a spokeswoman for the African Union.
The international community has pressed incumbent Laurent Gbagbo to relinquish power to Alassane Ouattara, who foreign powers say won the November election.
United Nations chief Ban Ki-moon on Saturday urged the international community to remain resolute against Gbagbo's efforts to cling to power.
A recount in the disputed election would be "a grave injustice and set an unfortunate precedent," said Ban, who attended an African Union summit in the Ethiopian capital of Addis Ababa.
"We have an obligation to remain firm and unified, and to signal to Africa's peoples that our commitment to our principles is real."
Gbagbo has shunned calls to step down, prompting a political crisis analysts say could escalate into a civil war.
Last week, a delegation from West African nations discussed the standoff with Tom Donilon, the national security adviser in U.S. President Barack Obama's administration.
The delegation reaffirmed its shared commitment with the United States to see the incumbent leader cede power, the White House said in a statement.
Human Rights groups have accused Gbagbo of carrying out a "reign of terror" against his people in the wake of the standoff.
"Security forces under the control of Laurent Gbagbo and militias that support him have, since late November 2010, committed extrajudicial killings, forced disappearances, torture and rape," Human Rights Watch said in a news release last week.
Rights groups urged perpetrators of sexual violence to be brought to justice.