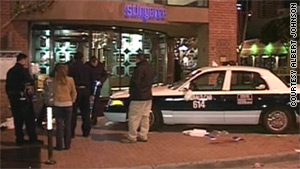 -- The driver of a taxi cab that plowed into nightclub patrons in San Diego's popular Gaslamp district, injuring two dozen people, was roughed up by the angry crowd, authorities said Saturday.
Fire officials said 23 people injured outside the club Stingaree were taken to hospitals, including a woman whose leg had to be amputated below the knee after she was pinned against the wall by the cab.
None were listed Saturday as having life-threatening injuries, Police Lt. Rick O'Hanlon told CNN.
The unidentified driver, in his 40s, said he blacked out before the crash, but police were still investigating, Hanlon said. He would not comment on whether sobriety tests had been conducted.
"At this point, no charges are pending," said O'Hanlon, describing the incident as a "horrible accident."
The cab was traveling about 15 miles per hour in a 25 miles per hour zone when it went off the road and struck the people around 1:30 a.m., shortly before closing time.
San Diego Fire-Rescue Department spokesman Maurice Luque said some of the injured had broken bones, while others were bruised.
The cab driver was attacked and had cuts and bruises from the melee, Luque said.
O'Hanlon said police will still trying to determine whether the cabbie's injuries were the result of the accident or from being attacked. Sgt. Art Doherty said the driver had a bloody nose.
Hundreds of people poured onto the street after the incident, and police broke up several fights, according to O'Hanlon.
Police are still investigating witnesses and there has been no decision on any criminal charges, O'Hanlon said.
Stingaree, which describes itself as a nightclub and restaurant, posted a message on its Facebook page.
"Our deepest thoughts and prayers go out to the victims of last night's tragic accident in front of Stingaree. We are assisting the San Diego Police Department in any way necessary with their investigation," it said.