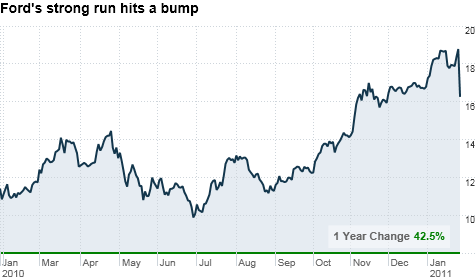 -- Ford Motor posted its highest annual income in more than a decade Friday, although fourth-quarter earnings disappointed investors.
The problem for Ford was more one of expectations than execution, as Ford's results included a lot of good news, but also some increased costs, such as the price of raw materials as well as spending on engineering and marketing, that caught Wall Street analysts by surprise.
As a result of its first earnings miss in two years, Ford (F, Fortune 500) shares fell more than 12% in midday trading. Still, even with that sell-off, shares are up more than 40% over the course of the past 12 months.
Despite the earnings miss, full-year profits for 2010 climbed to $6.6 billion from $2.7 billion in 2009, the best since 1999.
But the company, which recaptured its position as the No. 2 automaker in terms of U.S. sales in 2010, posted a fourth-quarter operating profit of $1.2 billion, or 30 cents a share, excluding special items. That was down from 43 cents a share on that basis a year earlier.
Analysts surveyed by Thomson Reuters forecast earnings of 48 cents a share excluding special items. The result was below even the most conservative forecast of a 36 cents a share profit.
At least part of the fourth-quarter disappointment came from a small loss in its European unit, compared with a profit there a year earlier. Ford had previously said it expected to be profitable in Europe in the quarter.
But Lewis Booth, Ford's chief financial officer, said a bigger part of the problem was that the company failed to sufficiently communicate to Wall Street the impact of higher expenses.
"We recognized we missed," he said during the conference call to discuss results with analysts and reporters. "We'll have to continue to do a better job communicating what the outlook is."
CEO Alan Mulally said the company was pleased with full-year results.
"Our 2010 results exceeded our expectations, accelerating our transition from fixing the business fundamentals to delivering profitable growth for all," he said in the company's statement.
Mulally and Booth both said they expect the company will report better results in 2011 than it did in 2010, but they wouldn't give any details about how much better. Mulally declined to say whether current forecasts -- for a 29% improvement in first quarter earnings and a 15% increase in full-year earnings, were realistic.
For the most part, analysts continued to see more positives than problems at Ford.
"I don't think anyone doubts your ability to make more money in 2011," said Adam Jonas, auto analyst with Morgan Stanley, to Booth during the conference call.
In a note Friday, Jonas reiterated that he expects Ford's earnings to jump by more than 50% in 2011 -- well above consensus estimates.
Efraim Levy, auto equity analyst with Standard & Poor's, said it is a significant milestone that Ford's cash flow and debt repayments during the quarter left it with more cash on hand than total debt for the first time since early 2008.
"It's a good sign when you have cash available to deploy on product development and overseas expansion, rather than having to scramble for cash," he told CNNMoney. He also wasn't too worried about Ford missing earnings targets.
"Sometimes after a long string of success, the analysts get a little too enthusiastic," he said. "The fundamental story I see remains positive. Forget the earnings -- look at the trend."
Rank-and-file auto workers will benefit from Ford's strong results as well, as the company announced it would pay profit-sharing bonuses averaging about $5,000 to 40,600 members of the United Auto Workers at its U.S. plants. That's well above the $450 average they received a year ago.
Despite the disappointing bottom line, Ford's quarterly sales of $32.5 billion topped forecasts of $30.4 billion, even though they fell from the $34.8 billion in sales a year earlier.
For the year revenue rose to $120.9 billion, up $4.6 billion from 2009, even though the company sold off its Volvo brand during the course of the year. Excluding Volvo sales, revenue rose $17 billion, or 15%.
Ford (F, Fortune 500) was the only U.S. automaker that did not need a federal bailout or a trip through bankruptcy court in 2009. Its rivals -- General Motors (GM) and Chrysler Group, have also enjoyed a turnaround, but neither are making the gains with U.S. buyers that Ford has.
Ford also benefited from the recall troubles at Toyota Motor (TM) in 2010, which caused the Japanese automaker to lose market share for the first time since 1999, and drop out of the No. 2 sales position in U.S. sales