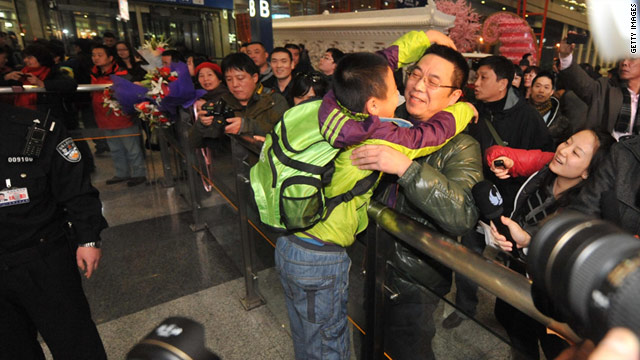 -- More foreigners are expected to flee from Egypt on Wednesday as governments expand evacuation efforts amid nationwide protests calling for President Hosni Mubarak to step down.
Mubarak announced Tuesday that he will remain in office until elections in September, sending hundreds of thousands to the streets to demand his resignation. Demonstrators -- who started protesting on January 25 -- had declared Tuesday the day for a "march of millions" in Cairo, Alexandria, and other areas.
As the protests raged on, uncertainty over security sent governments scrambling to evacuate their citizens.
The U.S. State Department said 1,600 Americans had been evacuated while British carrier BMI said it has organized an extra flight to help British nationals get back to the United Kingdom.
The British Foreign Office said it is sending a charter flight to Cairo on Wednesday to fly back British citizens with no other way to get home.
Greece has sent military aircraft to evacuate 215 Greeks from Egypt, the official Athens News Agency said.
Other countries including China, Canada, India, Thailand and Australia were attempting to get stranded citizens out of Egypt.
Two flights carrying 480 Chinese nationals took off from Cairo on Tuesday, said Hong Lei, spokesman for China's Ministry of Foreign Affairs.
Australian Prime Minister Julia Gillard said her government would provide an emergency flight that will depart from Cairo on Wednesday, a statement from her office said.
The State Department said that some Americans had difficulty getting to Cairo's airport because of road closures related to the demonstrations.
Commercial flights in and out of Cairo operated only during noncurfew hours, the government said, although evacuations were allowed to proceed around the clock, and Alexandria airports were open.
The State Department on Tuesday ordered all nonemergency government personnel and family members to leave the country. The U.S. flights were part of a broadening effort by governments worldwide to transport their citizens out of the country, where widespread anti-government demonstrations have led to clashes between protesters and police, looting and other dangers.
About 52,000 Americans are believed to be in Egypt -- more than 2,600 of whom have asked to be evacuated, the State Department said.
The State Department said Americans seeking flights out of the country should make their way to Cairo International Airport's HAJ Terminal 4, where officials will arrange charter travel out of the country. Those Americans seeking evacuation will be asked to sign documents promising they will reimburse the government for the flights, the State Department said.
Exact costs hadn't been determined, but a State Department official said it should be comparable to a one-way commercial flight from Egypt to the evacuation points.
Citizens will be responsible for arranging their own travel from there.