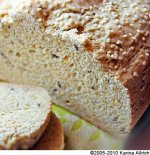 I baked this handsome loaf in my bread machine. Follow your manufacturer's instructions regarding dry and wet ingredients. If you are mixing and baking by hand, see below for instructions.
Ingredients
First- whisk together your dry ingredients in a bowl and set aside:
2/3 cup sorghum flour
1/3 cup cornmeal
1/2 cup millet flour
1 cup potato starch
2 teaspoons xanthan gum
1/ 1/4 teaspoon sea salt
2 teaspoons dry Ener-G Egg Replacer (or use 1 beaten large organic happy egg in with the wet ingredients)
You'll need sesame seeds for the top- or hemp seeds; set aside for later.
Proof the yeast:
Add 1 packet rapid dry yeast or 2 1/4 teaspoons to
1 1/4 cups warm mix of plain hemp milk + water (at 110 to 115 degrees F) with a pinch of raw sugar
Let it get a little foamy (this doesn't take long- or shouldn't). Pour the liquid ingredients into the bread machine pan:
The proofed yeast and water
4 tablespoons extra virgin olive oil
3 tablespoons honey or raw agave nectar
1/2 teaspoon mild rice vinegar or lemon juice
Instructions
Gently pour the mixed dry ingredients on top of the liquid.
Set your bread machine program for 1.5 loaf medium crust. I used the gluten-free cycle on the Breadman; if you don't have a gluten-free cycle, I believe a rapid rise cycle will also work.
Here's what I did- my tips for using a bread machine with gluten-free flours:
After a minute or two of mixing, open the machine and scrape down the sides of the pan with a soft spatula to help incorporate he flour; I had to do this twice.
After the mixing/kneading cycle was finished (before the Rise cycle) I removed the paddle and with wet fingers pressed and smoothed the top to even out the shape.
I sprinkled a generous tablespoon of sesame seeds all over the top.
When the machine beeped "done" I checked to see if I thought the loaf was baked all the way through. I do this by lightly pressing on the side- if it gives too much or seems soft; add another 5 to 10 minutes of baking time.
When you think the loaf is done, remove it from the hot machine and place on a wire rack. Tip it on its side and when cooled a little, shimmy it out (if you don't do this, it steams and gets too moist). Place the loaf on a wire rack and do the "thump test". The "thump test" reveals if it's done. It should sound hollow when tapped.
If by some chance you find it's not quite done or you like a crusty crust, place the naked loaf directly into the oven- on the center rack- and turn on the temp to 350 degrees F. You can bake it for another 5 to 10 minutes, but keep an eye on it. It should sound hollow if you tap it.