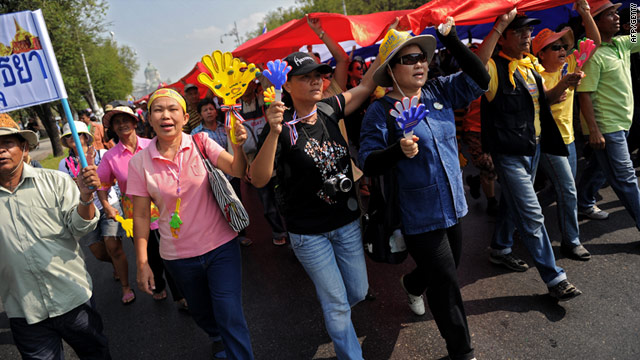 -- Thai yellow shirt protesters on Friday demanded the prime minister's resignation over what they say is his failure to protect the interests of the nation.
Hundreds chanted "get out, get out Abhisit" as they marched toward the statue of the late King Rama V in Bangkok. The king is a legendary figure in the history of the nation's monarchy.
About 1,000 protesters took part, said Prawut Thavornsiri, a police spokesman.
"It was generally peaceful and the march ended quickly," he said.
The nationalist yellow shirts have been demonstrating at major streets and monuments in the capital for more than two weeks. They have criticized the handling of the long-running border dispute with Cambodia that has led to deadly clashes recently. Protesters have vowed to retake Thai's land, which they say is lost to Cambodia.
Prime Minister Abhisit Vejjajiva once enjoyed support from the yellow shirts, but the relations turned soar after the demands of the nationalist group were not met.
The yellow shirts are part of color-coded political divisions that also includes the red shirts. The latter are made up of the country's rural and urban poor, while the yellow shirts are largely middle- and upper-class urbanites.
Meanwhile, the border situation between Thailand and Cambodia remains calm, an army spokesman said.
If no fighting erupts Friday, displaced Thais should be able to return home, said Col. Shinagard Rattanikitti.