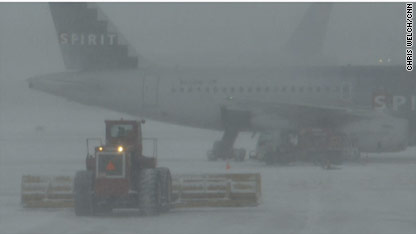 [video]http://cnn.com/video/?/video/us/2011/02/02/vo.chicago.cars.abandoned.wgn[/video]
[video]http://cnn.com/video/?/video/weather/2011/02/02/vonat.snow.collapses.building.NECN[/video]
[video]http://cnn.com/video/?/video/weather/2011/02/02/wx.chernoff.boston.snow.cnn[/video]
-- Chicago airports expect to return to a more normal schedule Thursday as the massive storm that dumped about two feet of snow across the region exited the United States.
But for passengers still stranded at O'Hare and Midway International airports, it was another uncomfortable night in the terminal.
"Airlines at both airports anticipate a more expanded flight schedule to resume ... ," the Chicago Department of Aviation said in a statement. "The ... snow removal teams continue to work on clearing and cleaning the runways, taxiways and terminal, at both O'Hare and Midway."
Between the two airports, more than 2,600 flights were canceled Wednesday.
For many travelers, it was a test of patience, waiting for conditions to improve.
"It was horrible," said Shannen Park, who was on her way to Minneapolis, Minnesota, when she got stuck at O'Hare International Airport in Chicago. She's been there for more than two days.
"People are treating me like (I'm) homeless. There was a guy who gave me food ... I slept a while, but I couldn't really sleep. It's not comfortable."
Wei Min Zhang was traveling from China to Knoxville, Tennessee, when the bad weather interrupted his journey at O'Hare. He wanted to find a hotel room, but there were no vacancies.
He tried to sleep on seats in the baggage claim area.
At O'Hare, 20.2 inches of snow fell, making it the third largest snowstorm on record, according to the National Weather Service. Powerful winds, gusting to 60 mph, pushed the snow into "drifts of 2 to 5 feet, and a few drifts of 10 feet or more."
United Airlines, which operates a hub in Chicago, said operations at O'Hare are suspended until 10 a.m. on Thursday.
"A limited number of flights will operate during the morning and early afternoon hours on Thursday, and a return to full operations is expected as Thursday progresses," the company said on its website.
While the storm system swirled out of the northeastern United States and into the Canadian Maritimes, new trouble was brewing across parts of the Deep South.
Continental Airlines said it would suspend most of its operations from Houston's George Bush Intercontinental Airport from Thursday afternoon through midday Friday. Snow, freezing rain and sleet are forecast.
Boston's Logan International Airport had to close for several hours Wednesday because of icing on the runways.
Tulsa International Airport in Oklahoma resumed flights at noon on Wednesday, according to affiliate KOTV.
Airlines canceled more than 11,000 flights on Tuesday and Wednesday as the massive storm surged out of the southern Plains, spreading snow and ice from Texas to Maine.
Delta grounded more than 1,175 flights on Wednesday, while American Airlines scrubbed more than 1,000 flights.
American Airlines is allowing travelers who are scheduled to fly from more than 30 airports in the Midwest -- including those in Chicago, Detroit and Milwaukee, Wisconsin -- to change their plans without penalty.
Southwest Airlines canceled 950 flights on Wednesday, according to spokeswoman Marilee McInnis, who said operations will be "close to normal" for Thursday.
Passengers with reservations for travel through Chicago, St. Louis, Detroit and other cities are eligible to reschedule their flights.
AirTran Airways scrubbed 75 flights on Wednesday, spokesman Christopher White said.
AirTran passengers traveling through more than two dozen cities in the region -- including Chicago, St. Louis and Boston -- can change their reservation without penalty.
Delta issued a winter weather advisory for the northern United States. Passengers traveling to airports in 20 states through Friday can reschedule their itineraries without a fee or get a refund if their flights are canceled or significantly delayed.
Continental Airlines will allow changes for travel to, through and from nearly three dozen airports, including the airline's hubs in Newark, New Jersey and Cleveland for travelers scheduled to fly through Thursday.
Continental said operations at Newark would be suspended through noon Wednesday.
Travelers on JetBlue flights to and from six cities and metropolitan areas in the Northeast on Tuesday and Wednesday will also be able to change their plans with no fees.
United Airlines has issued travel waivers for passengers traveling to, from or through 19 states in the Midwest and Northeast as well as five Canadian cities. Travelers will be able to alter their plans without fees or get a full refund if their flight is canceled.