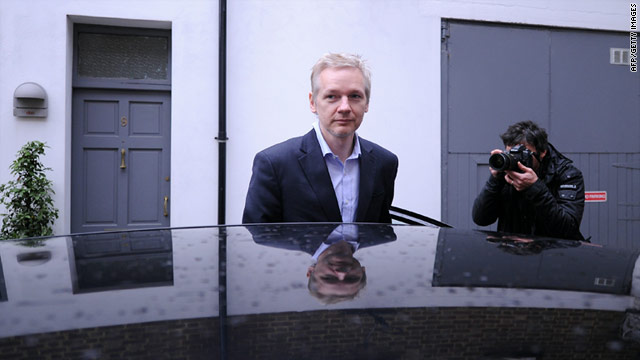 -- WikiLeaks founder Julian Assange is expected to appear in court in London on Monday for an extradition hearing that could send him to Sweden.
Prosecutors in Sweden want him for questioning in connection with sexual misconduct allegations unrelated to WikiLeaks.
Assange has denied the allegations, and is free on 200,000 pounds ($310,000) bail while he fights extradition.
The British courts are requiring Assange to stay at the mansion of a supporter outside London each night and check in daily with police. He is also required to wear an electronic tag to monitor his location.
Assange's website, which facilitates the leaking of secret information, has released hundreds of thousands of pages of U.S. military and diplomatic documents for most of the last year.
His lawyers may argue that Assange could end up at Guantanamo Bay if he is extradited to Sweden, according to legal papers they released last month.
He would be at risk of mistreatment or even execution, according to a draft defense published on their website, saying that means Britain cannot extradite him without violating his human rights.
"There is a real risk he could be made subject to the death penalty," Assange lawyers say in documents they released a month ago, citing British media reports that Republican politicians Sarah Palin and Mike Huckabee have called for him to be executed.
The lawyers released a preliminary outline of their planned arguments ahead of an extradition hearing for Assange next month.
The Swedish prosecutor who issued an arrest warrant for Assange did not have the power to do so, Assange's lawyers will also argue.
Additionally, his lawyers will say, it's improper to issue an arrest warrant when a suspect is wanted only for questioning, not prosecution.
Prosecutor Marianne "Ny went from informal discussions about arranging an interview of Mr. Assange straight to the issuance of" a European arrest warrant without "formally summoning him for an interview or formally requesting his interrogation," they will argue.