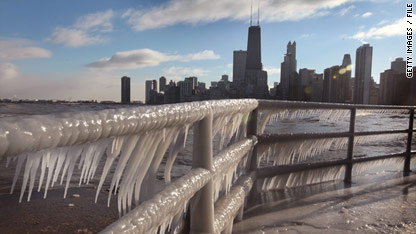 -- Chicago is bracing for a snow storm of historic proportions that was expected to coat the Windy City and large sections of the country's midsection in a thick blanket of snow.
Forecasters have issued a blizzard watch.
"Combined snow totals from the Monday afternoon through Wednesday may exceed a foot and a half across much of northern Illinois and far northwest Indiana," the National Weather Service said. "Snowfall rates up to 3 inches per hour will be probable at the height of the storm Tuesday night."
Some of the coldest air of the season will plummet southward and combine with another storm developing over the southern Plains, according to CNN meteorologist Sean Morris, before moving toward the northeast.
An intense surface low will develop over north Texas and pull abundant warm, moist air from the Gulf of Mexico into the frigid Arctic air diving southward into the Plains. In addition to blizzard conditions, the storm system is expected to spin off heavy snow, ice storms and tornadoes.
This storm appears to be one for the record books.
It could be one of the top 10 biggest snowstorms ever in the Windy City. The biggest snow storm in Chicago's history occurred from January 26-27, 1967 when 23 inches of snow fell on the city.
According to the National Weather Service, snowstorms that drop over 15 inches of snow occur once in about every 19 years. The last time this happened was in January of 1999 when 21.6 inches of snow was recorded in Chicago.
The storm will likely extend from Oklahoma City to Caribou, Maine, by late week, said CNN meteorologist Dave Hennen.
The National Weather Service said the "dangerous storm" will begin to affect Missouri and Illinois, which were under storm warnings, as early as Monday.
Snowfall, primarily on Tuesday, could be over 12 inches in parts of both states, the agency said.
CNN St. Louis affiliate KSDK indicated the storm could be "historic," saying it could rival a 1982 system that left 13.9 inches of snow in St. Louis and some areas with more than 2 feet.
Very heavy snow will fall from Oklahoma northeastward through Kansas, Missouri and Illinois. Snow accumulations there will be measured in feet, not in inches.
Blizzard or near-blizzard conditions are expected as far south as Oklahoma City on Tuesday. The National Weather Service forecast office in Norman, Oklahoma, warns that a "potentially dangerous winter situation" is developing with travel becoming extremely dangerous or impossible across the state by Tuesday morning.
Accumulations of 16 to 24 inches are possible in a narrow band from Illinois into Ohio, and perhaps through St. Louis, Chicago and Detroit, Hennen said, adding it was not yet possible to pinpoint the exact location.
The peak of the storm in the Midwest should be from Tuesday into Wednesday morning, Hennen said. Snow will affect Oklahoma City; Kansas City, Missouri; St. Louis; Chicago; and into Detroit. Other cities likely to be affected during the week include Milwaukee, Cleveland, Boston and the New York cities of Buffalo, Syracuse and Albany.
Punxsutawney Phil, of Groundhog Day fame, may be more interested in his exposed fur than his spring forecast when the system reaches western Pennsylvania.
In total, more than 20 states fall under winter storm advisories, watches or warnings, stretching from New Mexico in the southwest to New Jersey in the northeast.
Severe thunderstorms will likely develop along a trailing cold front from a main low-pressure area. There could be a significant potential for tornadoes in Arkansas, Louisiana, Mississippi, Tennessee and Alabama.
Where the warm air overrides the cold Arctic air, rain will fall into subfreezing temperatures at the surface and coat trees, power lines and roads in ice from Missouri to southern Illinois and eastward into central Indiana, Morris said. Ice accumulations of up to three-quarters of an inch will be possible, which will likely combine with gusty winds, which could cause tree branches to fall on power lines.
This will also be some of the coldest air of the season, with temperatures expected to drop well below zero in parts of the Texas Panhandle and western Oklahoma by Wednesday. Temperatures across the central and southern high Plains will be almost 50 degrees below normal in some areas. Low temperatures on Wednesday morning could be in the single digits as far south as north Texas.
Strong winds will combine with the cold temperatures to create extremely dangerous wind chills of 20 to 35 below zero across the southern Plains.