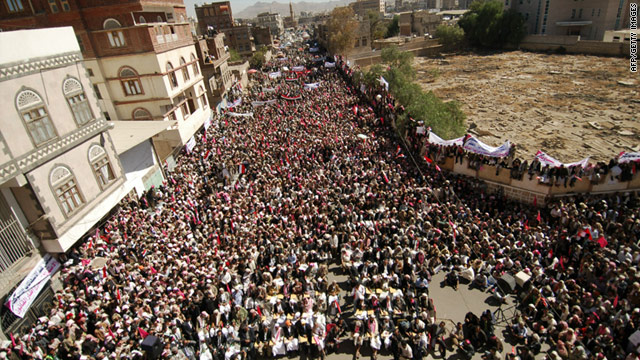 -- Yemen's President Ali Abdullah Saleh said Wednesday he will not seek re-election nor hand over power to his son once his current term ends in 2013.
"No extension, no inheritance," he told parliament.
Saleh had called an emergency parliamentary meeting, ahead of a "day of rage" protests scheduled for the following day.
Saleh has been in office for 32 years and was last re-elected in 2006.
In recent weeks, thousands of people have taken to the streets in Yemen demanding the kind of change that forced Tunisia's president from office last month.
Some of the protesters have called for Saleh to step down as president.
Earlier this year, Yemen's parliament began debating proposed amendments to the country's constitution. The measures, which would cancel presidential term limits, have sparked concerns among the opposition that Saleh might try to appoint himself president for life.
On Wednesday, Saleh said he has requested his party to freeze debate on the proposed amendments until a consensus is reached.
The opposition coalition, Joint Meeting Parties (JMP), said the president's speech was not enough and called on its followers to continue with Thursday's planned march, said Hakim Almasmari, editor in chief of the Yemen Post.
A day earlier, the president has also ordered the release of journalist Abdul Elah Haidar Shaye who was sentenced to five years in jail last month after he was convicted of collaborating with al Qaeda in Yemen, according to the country's official news agency, SABA.