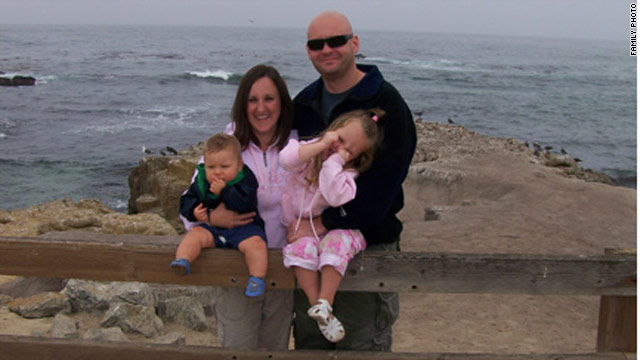 [video]http://cnn.com/video/?/video/us/2011/02/04/lavandera.ptsd.military.dismissal.cnn[/video]
-- Air Force Maj. Chad Bushman vividly remembers the worst day of his life, the sound of handcuffs gripping his wrists as six military officers took him away and told him he faced criminal charges for abusing his wife.
"It's shameful. There's no honor in it." Bushman said. "I'm very ashamed of how I had gotten."
What Bushman didn't know at that moment was that a military psychologist would soon determine that he suffered from post-traumatic stress disorder, and, he says, it led to years of abusing his wife. The diagnosis may have come too late, and the decorated pilot's military career could soon come to a disgraceful end. But Bushman says that he deserves a second chance and that the Air Force has let him down.
"I think they're trying to wash their hands of me," Bushman said. "Instead of looking at the whole picture of 'how did he get this way, and what could we have done to make him better or help him?' "
The secretary of the Air Force will ultimately decide whether Bushman can continue his career as a military pilot. This week, the case goes before a board of inquiry at Maxwell Air Force Base in Montgomery, Alabama.
How Bushman's career reached this point is a sad and often disturbing tale that raises questions about whether the military missed PTSD warning signs along the way.
In the years after September 11, Bushman piloted C-130 aircraft into the battlefields of Iraq and Afghanistan. Bushman says the missions were the most stressful days he'd ever had.
"I can remember seeing a missile streak come past the front of the aircraft. That was the most terrifying experience of my life," Bushman said.
In Bushman's mind, however, pilots didn't suffer from PTSD. That was for ground troops who got shot at. But at home, Bushman says, he couldn't handle being around crowds, and his temper erupted more often.
"I didn't think there was a problem. I could justify everything," Bushman said. "I was like, 'this is who I am. Deal with it.' "
After Bushman returned home from multiple deployments in 2004, his attorney says, the military made a critical mistake. Each servicemember who returns from war is required to fill out a Post Deployment Health Reassessment Survey. Among other things, it can help military psychologists figure out whether he or she is showing any symptoms of PTSD.
Bushman says he wasn't given the survey until January 2008, four years after returning from war duty and less than a year before his wife called police after another brutal day of abuse.
A military attorney familiar with the major's case says the Air Force doesn't dispute Bushman's claim. The attorney says that as soon as the Air Force discovered that the survey wasn't completed, it corrected the problem. But Bushman's attorney says the survey holds the first clues that the pilot was battling PTSD.
In the survey, Bushman admits having nightmares and feeling numb and detached from others. Dr. Heather Klempp, a psychologist at the U.S. Army Health Clinic in Presidio of Monterey, California, described Bushman as having PTSD, showing signs of "recurrent intrusive ideation of traumatic experiences ... frequent anger and irritability ... severe anxiety." His relationship with his wife also began to deteriorate.
Tori Bushman laid out the years of abuse in painful detail in a five-page sworn statement the day her husband was arrested in November 2008. In the statement, Tori Bushman wrote that "there were several incidents of him holding me down, choking me, threatening to kill me and bury my body where nobody could find it."
Without getting into specifics, Col. Del Grissom, the staff judge advocate for Air University at Maxwell Air Force Base, says the military is prepared to present witnesses at the board of inquiry challenging Bushman's assertion that he suffered from PTSD during the years he beat his wife.
Grissom says that in the four years after Bushman returned from duty, he never asked for help, never showed signs of psychological problems and performed his work duties well.
"We can't tolerate anyone beating their spouse," Grissom said. "The question is, is it in the best interest of the Air Force for him to continue as an officer?"
Originally, Bushman faced a court martial on the criminal abuse charges, but the military dropped the case because his wife refused to cooperate after learning that a military psychologist had diagnosed him with PTSD. For almost two years, the Air Force ordered Bushman to have no contact with his wife and two children.
The couple recently reunited for an emotional weekend in San Francisco. Tears swelled in Tori Bushman's eyes as she hugged her husband tightly. She later explained why, after enduring so many years of abuse, she was supporting him and fighting so hard to persuade the Air Force not to discharge him.
"He was sick, and he needed help," Tori Bushman said. "Now, they're just going to throw him away because of all the things that he's done. They should be able to look at what's going on here and help us."
At this week's board of inquiry, Bushman's attorney will present evidence and witnesses arguing why the veteran pilot should be allowed to keep flying. Military attorneys will put forward their case, arguing that it's no longer "in the best interest of the Air Force" to keep him in the ranks. It's the military's way of determining "non-judicial punishment."
Three colonels will hear Bushman's case and then offer up a recommendation to the secretary of the Air Force. The final decision is probably several months away.
Until then, Chad and Tori Bushman are bracing themselves for the worst news: the end of their days in the military.
"They seem pretty determined to kick him out, but that's OK," Tori Bushman said. "We'll pick up the pieces, and we're still going to be together. We're going to be a family, and that's most important."