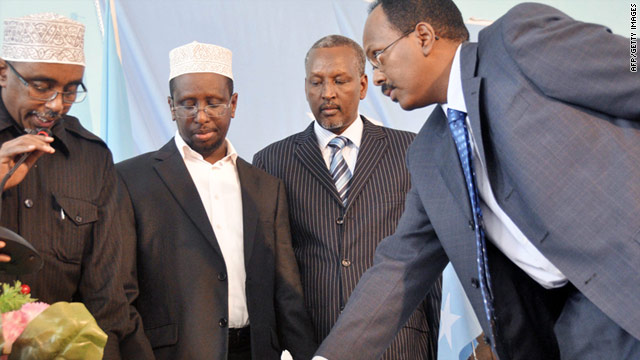 -- Somalia's transitional parliament extended its term by three years without consulting with the local population and other allies to find a way forward for the war-torn country, a U.S. official said Saturday.
The horn of Africa nation has not had an effective government since Mohamed Siad Barre was overthrown two decades ago. The transitional government has been battling Islamist insurgents for years over control of Mogadishu and other parts of the country.
Lawmakers this week voted to extend the transitional government and parliament beyond its term scheduled to end in August.
The three-year extension prompted criticism from the international community.
"Our concern is that the international community has urged the Somali government to consult very wisely with Somalis -- including those in the diaspora -- and their international partners to find a way forward," said Matt Goshko, public affairs officer at the U.S. Embassy's Somali affairs unit in Nairobi, Kenya.
Goshko said the transitional parliament disregarded an African Union request for expanded consultation.
"Their decision to extend was unilateral, it was hurried, it was not in the best interest. And that's why we are asking them to reconsider."
The Somali government was expected to have approved a new constitution and hold a general election before August.
It will not meet those goals, according to the United Nations, which also criticized the extension.
Transitional leadership will meet with various officials, including from the United Nations and the African Union, to discuss options that would ensure stability, said Augustine P. Mahiga, a U.N. special representative for Somalia.
A lot remains to be done, including reconciliation initiatives, completion of the constitution-making process, and building civilian and security institutions, Mahiga said.
Despite that, he said, Somalis "deserve and expect to see change" after two decades of conflict.
"It is the responsibility of the transitional authorities to implement this change in consultation with major entities representing the Somali people and key partners of the international community," Mahiga said.