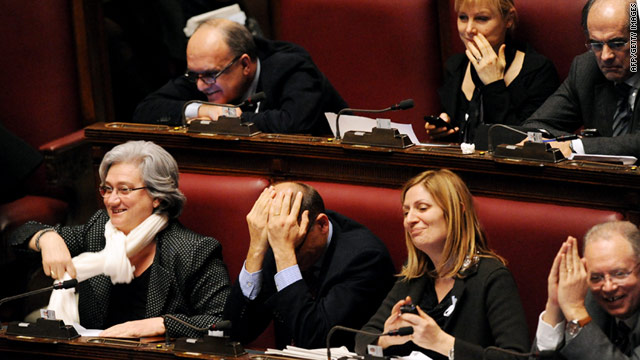 -- The lower house of Italy's parliament voted Thursday against allowing Milan prosecutors to search property belonging to Prime Minister Silvio Berlusconi, as part of their investigation into charges that he paid for sex with a minor.
The parliament denied the prosecutors' request by a vote of 315 to 298.
The prosecutors asked permission last month to search Berlusconi's offices used by Giuseppe Spinelli, one of the prime minister's accountants. Prosecutors suspect Spinelli of paying several young women with cash, jewelry or rent for apartments on behalf of the Italian premier for allegedly providing services, including prostitution.
Because he is the prime minister and a member of the lower house of parliament, Berlusconi enjoys partial immunity from prosecution. The Milan prosecutors are not allowed to search his property without the consent of parliament.
The parliament commission that handles such authorization requests ruled last week that Milanese prosecutors had no jurisdiction over the premier's alleged crimes, saying the charges should be considered by a special tribunal for ministers instead. But the parliament still had to weigh in on the request, and rejected it.
Prosecutors are investigating claims that Berlusconi paid for sex with nightclub dancer Karima El Mahrough, who was 17 at the time of the alleged activity. The investigation began in December, after Berlusconi called police and urged them to release El Mahrough, nicknamed Ruby, from jail, where she was being held on charges of theft.
Prosecutors say the activity took place from February until May. Both El Mahrough, now 18, and Berlusconi have denied they ever had sex. El Mahrough said that she did not know Berlusconi well but that she did receive 7,000 euros (about $9,300) from him the first time they met, on Valentine's Day 2010, because a friend told Berlusconi she needed help.
The young woman's former roommate told investigators that El Mahrough confided to her that she did have a sexual relationship with the premier.
Berlusconi has characterized the allegations against him as political mudslinging.