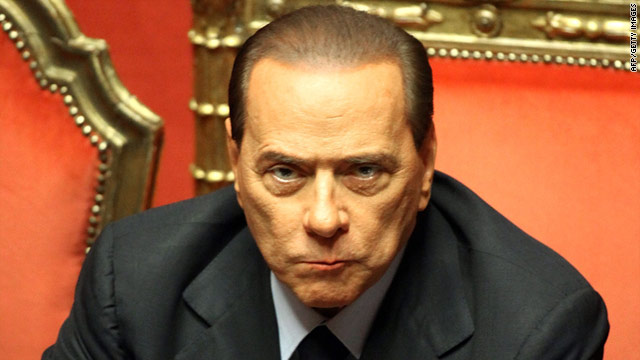 Prime Minister Silvio Berlusconi has been tried on at least 17 charges since first taking office as prime minister in 1994
-- Italian prosecutors Wednesday formally requested a trial of Prime Minister Silvio Berlusconi for alleged abuse of power and sex with an underage prostitute, they said.
Judge Cristina di Censo has five days to make a decision on how to proceed now that Milan chief prosecutor Edmundo Bruti Liberati has filed the application.
She can accept the request, putting the trial in motion without a traditional preliminary hearing; or dismiss it, allowing investigations to continue to determine whether there is enough evidence for trial.
She could also refer the case to another court. Berlusconi's lawyers have argued that the Milan courts do not have jurisdiction -- because of where the alleged crimes were committed -- or the authority to try a prime minister.
Silvio Berlusconi's legal woes explained
Prosecutors are investigating claims that Berlusconi paid for sex with nightclub dancer Karima El Mahrough, who was 17 at the time of the alleged activity.
Berlusconi dismissed the accusations as "groundless" Wednesday, saying the call for a trial was a "farce."
There was no abuse of power, he said.
And he said he was "sorry because these (allegations) have offended the dignity of the country. They've thrown mud on the government, on the country and on myself at an international level."
Two Italian polls published in the run-up to the prosecution request for trial suggest a majority of Italians want Berlusconi to resign.
Some 56% no longer want him to be prime minister, according to a poll for the daily Corriere Della Sera, while 61% wanted him to resign in a poll for a popular political TV show.
But 59% of people in that same poll, for "Ballaro" on Italian state TV RAI Tre, said they thought he would stay in power until the end of his term in 2013.
The investigation began in December, after Berlusconi called police in May, urging them to release El Mahrough, nicknamed Ruby, from jail, where she was being held on charges of theft.
Prosecutors say the activity took place from February until May 2010. Both El Mahrough, now 18, and Berlusconi have denied they ever had sex.
El Mahrough said that she did not know Berlusconi well but that she did receive 7,000 euros (about $9,300) from him the first time they met, on Valentine's Day 2010, because a friend told Berlusconi she needed help.
The young woman's former roommate told investigators that El Mahrough confided to her that she did have a sexual relationship with the premier.
Berlusconi's party argued that he believed that Ruby was Egyptian President Hosni Mubarak's niece and the phone call to the police station on her behalf was done to avoid a possible diplomatic crisis with Egypt.
The lower house of Italy's parliament voted Thursday against allowing Milan prosecutors to search property belonging to Berlusconi as part of the investigation.
The prosecutors asked permission last month to search Berlusconi's offices used by Giuseppe Spinelli, one of the prime minister's accountants.
Prosecutors suspect Spinelli of paying several young women with cash, jewelry or rent for apartments on behalf of the Italian premier for allegedly providing services, including prostitution.
Because he is the prime minister and a member of the lower house of parliament, Berlusconi enjoys partial immunity from prosecution. The Milan prosecutors are not allowed to search his property without the consent of parliament.
The parliamentary commission that handles such authorization requests ruled in January that Milanese prosecutors had no jurisdiction over the premier's alleged crimes, saying the charges should instead be considered by a special tribunal for ministers.
But the parliament still had to weigh in on the request and rejected it 315-298.
Berlusconi also faces two other trials that are set to resume after the country's top court struck down part of a law protecting top officials from prosecution.