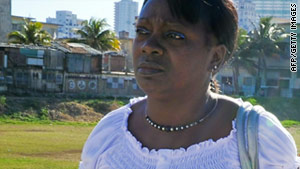 -- Cuba will soon release two prominent political prisoners, the Catholic Church said Friday, and will allow one of them to remain in the country in a sign that it will not require jailed dissidents to go into exile as a condition of their release.
Last July, the Cuban government made a deal with the church and the Spanish government to release 52 men jailed in a crackdown on opposition figures in 2003. But 11 of them, those who had refused Spain¹s offer of exile, remain behind bars.
According to the release Friday, Angel Juan Moya will be released and stay in Cuba, while Guido Sigler Amaya intends to go to the United States.
Moya's wife, Berta Soler, was one of the founders of the Ladies in White, who march every Sunday to demand the release of political prisoners. Sigler is the brother of another dissident who was previously released.
It was not clear when they will be released, but once they are freed, nine of those jailed in the notorious 2003 crackdown will still be in prison.
A total of 60 prisoners, more than those included in the original agreement, have agreed to go into exile in Spain.