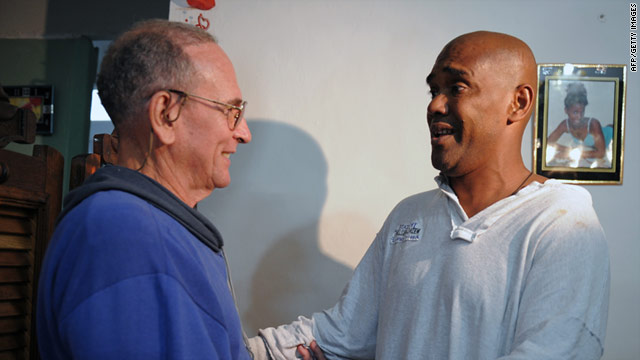 -- Two prominent Cuban dissidents who had refused to leave prison were released against their wishes on Saturday as the Cuban government continues to free opposition activists arrested during a notorious crackdown in 2003.
Hector Maseda Gutierrez, whose wife Laura Pollan is one of the founders of the Ladies in White who march every Sunday to demand the release of political prisoners, was freed in the morning.
Angel Moya Acosta was freed later in the day. His wife Berta Soler is also one of the leaders of the Ladies in White.
"I said I didn't want to leave until other political prisoners, who are sick and need attention, were freed," Moya told CNN. "But they forced me to leave."
Both Maseda and Moya are among the 52 dissidents President Raul Castro agreed to release as part of a deal brokered with the Catholic Church and Spain.
What has been hailed as the biggest release of political prisoners in more than a decade began last year, but initially only those who agreed to go into exile in Spain were freed.
The recent releases are a sign that the government will continue the releases even if the dissidents refuse to leave the island.
The Catholic Church announced on Friday that another four prisoners would soon be released into exile in Spain. But they were not among the group arrested during the 2003 crackdown. So far, 60 prisoners and their families have been flown to Spain, more than initially agreed upon.
According to leading Cuban human rights activist Elizardo Sanchez, the Cuban government has taken advantage of the deal with Spain to release a number of prisoners who are not engaged in any political activity and could not be considered prisoners of conscience.
"The government has adopted an abusive attitude," he told CNN. "They are making their own prisoner selection, getting rid of prisoners who wouldn't otherwise be accepted by any other country."