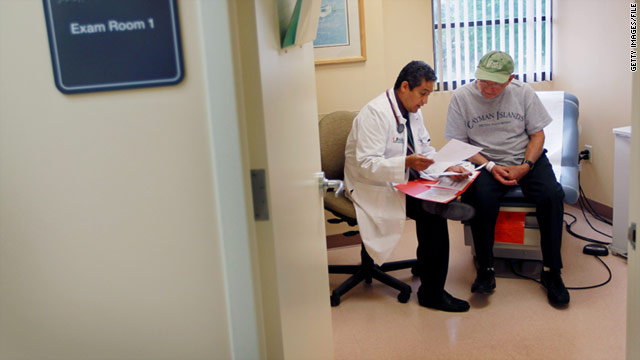 The fight over the health care reform law ruled unconstitutional by a federal judge on Monday will eventually be decided by the Supreme Court, said CNN senior legal analyst Jeff Toobin.
"This Supreme Court is very evenly divided between liberals and conservatives. Anthony Kennedy tends to be the swing vote. I would not be at all surprised that he would be the swing vote in this case as well," Toobin said.
"When you consider that this is the signature achievement of the Obama administration, and that it is hanging by a legal thread right now, it's a cause of great concern to supporters of the law."
Because the Florida judge ruled that the individual mandate, the part of the law that says everyone has to buy health insurance, is unconstitutional, "he says the whole law has to go out the window," Toobin said.
Toobin said it is important to note that several federal judges have found the law constitutional.
"This is why we have a United States Supreme Court, to settle when judges disagree with each other," Toobin said.
The nine justices "have the last word," Toobin said. "Nobody can tell them what to do or when to do it."
[Updated at 5:37 p.m.] The U.S. Department of Justice says it plans to appeal the ruling of a federal judge in Florida, who earlier today struck down as unconstitutional key parts of the sweeping health care reform bill championed by President Obama.
[Updated at 3:47 p.m.] A federal judge in Florida has ruled unconstitutional the sweeping health care reform law championed by President Barack Obama, setting up what is likely to be a contentious Supreme Court challenge in coming months over the legislation.
Monday's ruling came in the most closely watched of the two dozen challenges to the law. Florida along with 25 states had filed a lawsuit last spring, seeking to dismiss a law critics had labeled "Obamacare."
Judge Roger Vinson, in a 78-page ruling, dismissed the key provision of the Patient Protection and Affordable Care Act - the so-called "individual mandate" requiring most Americans to purchase health insurance by 2014 or face
stiff penalties.
"I must reluctantly conclude that Congress exceeded the bounds of its authority in passing the Act with the individual mandate. That is not to say, of course, that Congress is without power to address the problems and
Inequities in our health care system," Vinson wrote.
"Because the individual mandate is unconstitutional and not severable, the entire Act must be declared void. This has been a difficult decision to reach, and I am aware that it will have indeterminable implications. At a time
when there is virtually unanimous agreement that health care reform is needed in this country, it is hard to invalidate and strike down a statute titled 'The Patient Protection and Affordable Care Act.' "