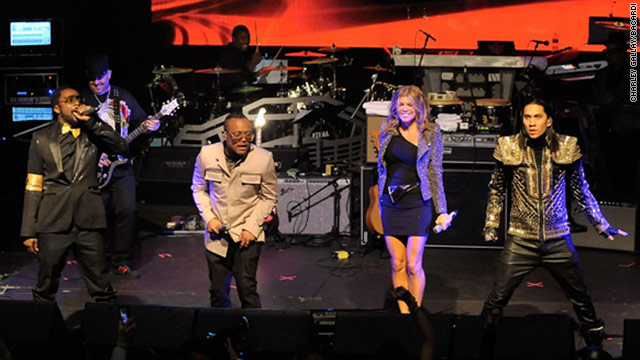 -- The Grammy Awards don't take place until Sunday, but in Hollywood, the festivities have already begun. Parties began earlier this week in clubs and Thursday night the big bashes began in earnest, as Usher and will.i.am got the proverbial party started with two talked-about events.
At The Music Box on Hollywood Boulevard, Black Eyed Peas ringleader will.i.am held his annual Peapod Benefit concert, which in recent years has served as a sort of unofficial kickoff to Grammy weekend.
"We are here tonight to bring awareness," the chart-topper said of his charity, which benefits children via supporting various programs worldwide, including musical education initiatives.
But the "Let's Get It Started" singer was also ready to party, and he brought in a few friends to help set things off. Bobby Brown, Jackson Browne, Ciara, John Legend, Natasha Bedingfield and Ozomatli were a few of the performers who shared the stage with the Black Eyed Peas at the event. Mix Master Mike, K'naan, LMFAO and Earth Wind and Fire also played.
Around 11 p.m., BEP kicked things off with their hit "Boom Boom Pow," before yielding to others throughout the course of the evening. While the young crowd may have not expected it, the night's best performer was a name perhaps not too familiar to younger pop and rap fans: Jackson Browne. The singer performed some of his biggest hits, backed by a six-person band and two soul singers.
But most music fans were buzzing about a different Browne: Bobby Brown. The late '80s/early '90s R&B icon took the stage to perform his hit "My Prerogative" as will.i.am and fellow BEP member Taboo watched and danced.
Just blocks away from the Bacardi and BlackBerry-sponsored Peapod Benefit, Usher held a similarly talked about concert. The "Yeah" singer held court at the Avalon, performing a short set for invited guests. TMZ reported that actor/singer Jamie Foxx was involved in a minor altercation at the event.
While Thursday's smattering of unofficial pre-Grammy parties helped build excitement for Sunday's show, much larger parties take place Friday night and this weekend.
Friday, Stevie Wonder, Seal, Tony Bennett and Glee's Matthew Morrison are to honor Barbra Streisand at the 21st annual MusiCares "Person of the Year" event. A less formal but no less talked about bash, the "Friends 'N' Family" party, takes place Friday night inside Paramount Studio's Melrose Avenue lot.
Saturday is the music industry's (at least those who can wrangle a coveted invite, anyway) biggest night next to the actual awards: Clive Davis' Pre-Grammy Gala, a party the music executive has hosted since 1976, will go down at the Beverly Hilton. The biggest names in music will be there, as they are every year.
After the Grammy Awards ceremony and telecast, the label parties are where the action will be Sunday night. EMI, Sony and Warner all will hold events this year at various Los Angeles-area venues, from Soho House to the Beverly Hills Hotel.