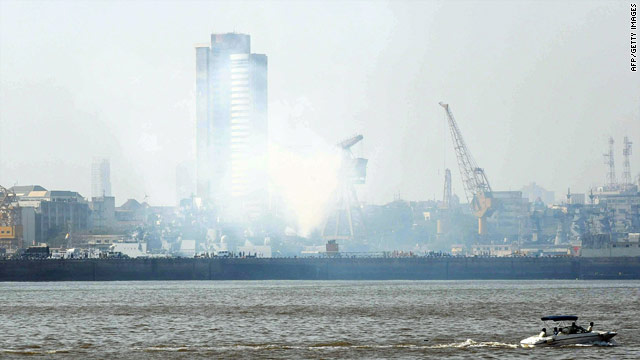 The heavily armed Indian navy frigate was equipped to do battle with enemy battleships and submarines, but it went up in flames as soon as it was hit … not by a torpedo or enemy vessel, mind you, but by a merchant ship.
The sinking of the INS Vindhyagiri, a 3,000-ton warship, marked the worst-ever peacetime loss for the Indian navy, Indian Express reported, adding that it's also pretty embarrassing.
The warship was returning from a "day at sea" for families of sailors and officers and was entering the Jawaharlal Nehru Port Trust off the coast of Mumbai on Sunday afternoon, the website said.
Video taken by a passenger aboard the INS Vindhyagiri caught the collision as it unfolded. Those aboard the navy ship can be seen scurrying nervously as the merchant vessel approaches the frigate.
The Cyprus-flagged MV Nordlake, which was leaving the harbor, narrowly missed another container vessel, the MV Sea Eagle, and as it turned to avoid the Sea Eagle, it slammed into the frigate.
The collision cracked the warship's hull near the waterline. Water rushed in, and a fire broke out in the engine room, the Indian Express reported.
The Mumbai Mirror reported that the Navy attempted to put out the blaze, but the added water served only to sink the ship faster.
The ship was towed into the harbor, but it sank Monday afternoon. Police said they planned to arrest the Nordlake's captain, according to the Indian Express.