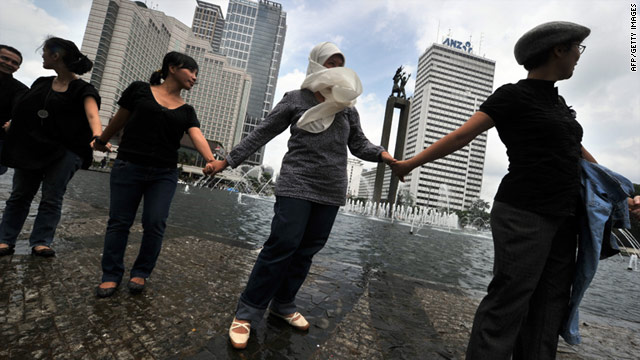 -- Indonesian police are investigating an attack on members of a Muslim minority sect that killed three people and injured five others.
The home of a Ahmadiyah sect preacher was raided Sunday by more than 1,000 people -- some wielding knives, sticks and rocks, according to police.
Authorities said before the attack, security personnel were trying to persuade the preacher and about 20 other visitors to leave the home in Banten province on the island of Java.
Residents who oppose the presence of the Ahmadiyah in the area were demanding the group stop its activities, authorities said.
Police said the crowd grew unexpectedly and the situation turned violent. The victims were all members of the Ahmadiyah, according to local police chief, Lt. Col. Alex Fauzy Rasyad.
Amateur video taken at the scene using a small mobile device was handed to the organization Human Rights Watch.
The video showed brutal scenes of attackers pummeling what seemed like lifeless bodies of victims with sticks.
Human Rights Watch declined to reveal the source of the video, but similar pictures have been widely circulating on the internet, according to the group's office in Indonesia.
We are grieving over the Ahmadiyah attack. The violence was not just against property but on human lives," the sect's spokesman Firdaus Mubarik told CNN.
Many Muslims consider Ahmadiyah followers as holding heretical beliefs. The sect believes Muhammad is not the last prophet.
Indonesia issued in 2008 a joint ministerial decree, prohibiting the sect -- which has about 200,000 members in Indonesia -- from spreading its beliefs.
Since then, many hardliners have often taken the law into their own hands, at times attacking the sect's followers and their properties around the country.
Late last month, members of the hardline group, Islamic Defenders Front forced the sect's followers out of their mosque in the city of Makassar, according to Human Rights Watch.
Activists have lashed out against this latest attack.
"For years, Indonesian authorities have sat idly by while mobs have violently attacked the Ahmadiyah," said Elaine Pearson, deputy Asia director at Human Rights Watch.
"Today's brutal killings happened because of the police's failure to address hate crimes."
Pearson urged Indonesian police to hold the perpetrators accountable.
Human Rights Watch said if the government is serious about stopping violence against the sect, it should lift a 2008 decree that prohibits the sect from practicing their religion."
In a statement, Indonesia's Institute for Policy Research and Advocacy also accused the police of failing to protect members of the sect.
Indonesian President Susilo Bambang Yudhoyono has condemned the attacks.
Security Minister Dyoko Suyanto called for an investigation, but also asked the sect to abide by the 2008 ministerial decree.
The police chief said an investigation is under way, and authorities are identifying the perpetrators.
"We hope the government will take firm action to stop the violence," the sect's spokesman said.