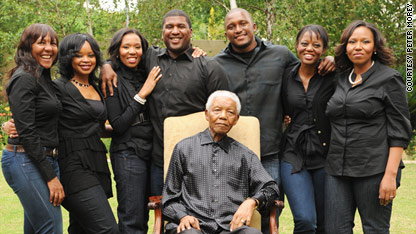 [video]http://cnn.com/video/?/video/bestoftv/2011/02/12/nr.mandela.children.cnn[/video]
-- Nelson Mandela is many things to many people -- a former president, an anti-apartheid icon, a Nobel Peace Prize laureate -- but according to his daughter, he would like to be remembered first as a family man.
"My father, I think, would love to be remembered as a family man, as a person who if he could change one person's mind, then he's done his job," said Mandela's daughter, Zenani Mandela Dlamini. "My father doesn't dwell on who he is ... he's just a normal human being, according to him."
Mandela, 92, was hospitalized briefly in Johannesburg last month for an acute respiratory infection. Doctors have said they are happy with his progress -- an opinion his daughter echoed.
"He's doing great. He's improving slowly," she said. "He's a 92-year-old man so you have to take that into consideration. ... But he's in great spirits. He loves to be with his grandchildren and great-grandchildren. And he's got a great sense of humor."
Mandela spent 27 years in prison after being convicted of sabotage and attempts to overthrow the government under South Africa's former apartheid regime. He was released in 1990 and elected president in a landslide four years later. Friday marked the 21st anniversary of his release.
Mandela's defiance of white-minority rule and his long incarceration for fighting against state-sanctioned segregation focused world attention on South Africa's apartheid system, making him the symbol of the struggle to end the practice and bring racial equality to his country.
He recently released a new memoir, "Conversations With Myself."
"My grandfather is the icon of icons. He stands for humility, and he stands for peace," said Zaziwe Dlamini Manaway, one of Mandela's granddaughters. "I'm so happy that he's with us after 20 years and I'm happy that I'm able to share this day with him because it's a very momentous day for us and for him."
Zamaswazi Dlamini, another one of his granddaughters, said she would be happy to pass down to her child Mandela's sense of compassion and humility.
"It says a lot for him to have endured 27 years in jail and still come out such a humble and forgiving person after everything that he had been through," she said. "I'm just grateful for the fact that I've actually seen what's happened in this country, the transition, how we've grown ... and just to know that my grandfather was a part of it and he played such a big role in it makes me feel very proud."
In 1993, Mandela and then-South African President F.W. de Klerk were awarded the Nobel Peace Prize for their work.