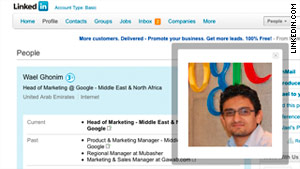 -- Wael Ghonim, a Google executive who has been missing for more than a week following his purported arrest in Cairo, is to be released Monday, according to two Egyptian television news networks.
Telecom executive Naguib Sawiris announced on OTV Sunday that Ghonim would be released at 4 p.m. Monday. Sawiris told CNN that Egyptian Vice President Omar Suleiman assured him during a Sunday meeting between government officials and opposition leaders that Ghonim would be released.
State-run Nile TV reported that Prime Minister Ahmad Shafiq called the network to announce that a Google executive missing for more than a week will be released Monday. There was no explanation as to the executive's whereabouts or condition.
Sawiris is a member of the so-called Committee of the Wise, a group of independent elite leaders of Egyptian society taking part in talks over the future of the country.
The announcements follow the release of a statement earlier Sunday by the human rights group Amnesty International. The statement warned that Ghonim was at risk of being tortured by Egytian authorities.
"The Egyptian authorities must immediately disclose where Wael Ghuneim is and release him or charge him with a recognizable criminal offence," said Hassiba Hadj Sahraoui, deputy director of Middle and North Africa at Amnesty International.
"He must be given access to a doctor and a lawyer of his choice and not be subjected to torture or other ill-treatment. His case is just one of many that highlight the continued crackdown by the Egyptian authorities on those exercising their right to protest peacefully."
Ghonim, according to Amnesty International, was declared missing after he failed to meet with his brother January 28, as planned, to take part in street demonstrations. Ghonim, who heads Google's marketing operations in north Africa and the Middle East, had been in Cairo on a business trip since January 23.
Ghonim is from Dubai, according to the human rights group.
Family members became concerned when they discovered that Ghonim's telephones had been disconnected, according to the human rights group. Eyewitnesses later told family members they had seen Egyptian authorities arrest Ghonim during demonstrations near Mustafa Mohamed Street.