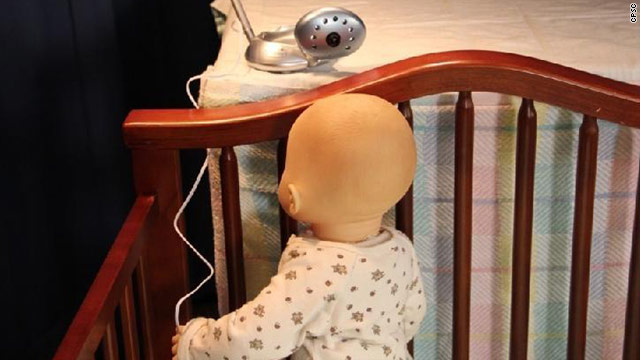 -- A voluntary recall was issued Friday for 1.7 million video baby monitors, after federal regulators probed reports that two babies had died in the past 11 months after being strangled by electrical cords.
The U.S. Consumer Product Safety Commission issued the announcement in conjunction with Summer Infant, the Woonsocket, Rhode Island, company behind the monitors, which are made in China and sold at retailers nationwide.
The federal commission noted that at least seven babies and toddlers nationwide have died since 2004 after being strangled by monitor cords, the last two involving Summer Infant items.
That includes a 10-month-old girl from Washington, D.C., killed last March after being strangled by a cord from a Summer Infant monitor that had been placed atop her crib rail, the commission said.
Eight months later, a 6-month-old boy from Conway, South Carolina, died in a similar manner, after a Summer Infant video baby monitor had been placed on his changing table.
The Consumer Product Safety Commission, in its release, noted another case involving a 20-month-old boy from Pittsburgh, Pennsylvania. That toddler was found inside his crib with a Summer Infant monitor cord wrapped around his neck. The boy was apparently able to reach the cord, even though the monitor was mounted to the wall. He survived the incident without serious injuries.
Priced between $60 and $300, the Summer Infant monitors involved in the recall were sold between January 2003 and this month at mass merchandisers, baby specialty stores and other retailers. They could be one of more than 40 models, each of which has a camera (placed wherever the baby is) and handheld device (that goes, presumably, where the parents are).
The brand "Summer" is visible on all the items.
Consumers can contact the company online or toll-free at 800-426-8627 to request a new product label and instructions.
The commission advises caregivers or parents not to place cords or corded cameras within 3 feet of a crib.
Also Friday, the Consumer Product Safety Commission issued another, slightly more specific recall of Summer Infant monitors -- this one because of a burn hazard.
This voluntary recall involves 58,000 monitors, which also has a "Summer" logo prominently on its front, are labeled Slim and Secure and sold in either silver and white or pink and white. This product was sold for about $200 only at Babies "R" Us between September 2009 and May 2010.
According to the federal agency, the rechargeable batteries sold with some of these monitors can overheat and burst, thus potentially burning people.
The company reported that it had gotten five reports of ruptured batteries -- three of which caused minor property damage, none of which caused any injury -- according to the federal consumer commission.
Those with this monitor should stop using it immediately, contact Summer Infant for a postage-paid envelope, and return the defective battery in order to get a replacement.