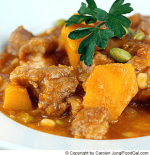 2 pounds pork stew (from shoulder), trimmed of excess fat
1/4 cup all-purpose flour
2 tablespoons paprika
Kosher salt
Freshly ground pepper
Vegetable oil
1 yellow onion, thinly sliced
1 can (14 1/2 ounces) chopped tomatoes
1 bay leaf
1 kabocha or 1 small pumpkin or about 2 pounds butternut squash
1 cup frozen, thawed edamame or lima beans
1 cup fresh or frozen, thawed corn kernels
3 tablespoons apple cider vinegar
Instructions
Cut meat into 2-inch pieces and pat dry with paper towels (do not rinse). Spread meat on a large piece of waxed paper or the butcher paper it came in. In a small bowl, combine flour, paprika, a generous pinch of salt, and several grindings of pepper. Sprinkle flour mixture over meat, toss to coat, then shake meat in a colander to rid it of excess flour; do in batches if the colander is small.
Coat the bottom of a 5- to 7-quart Dutch oven with a thin film of oil and set pot over medium-high heat. When oil shimmers, add enough meat to cover bottom in 1 layer. Cook, without stirring, until meat lifts easily from pot with tongs and is well browned on bottom, about 5 minutes. Turn and brown on the other side, about 5 minutes more. Transfer meat to a plate and continue with remaining meat, adding more oil to pot in between batches as needed.
When the last batch of meat has been removed, add onion and 1/2 cup water to pot, stirring to release the browned bits. Cook, stirring often, until onion is softened and liquid is almost evaporated, about 3 minutes. Add tomatoes, 1 cup water, and bay leaf and let come to a boil. Return meat and any accumulated juices to pot. Reduce heat, cover, and simmer 40 minutes.
Meanwhile, with a large, heavy knife, cut the kabocha or pumpkin in half through stem end. Scoop out and discard seeds and strings. cut kabocha or pumpkin into chunks, then with a small sharp knife, pare off the peel. Cut flesh into 1-inch cubes.
After meat has cooked 1 hour, add kabocha or pumpkin to the pot. Let liquid come to a boil, and then reduce heat, cover, and simmer 30 minutes more. Stir edamame or lima beans and corn into the pot, then cover and simmer until vegetables are cooked and meat is very tender, about 10 minutes more. Stir in vinegar. Turn off heat and let stand 5 to 10 minutes before serving, to settle flavors.
Adapted from "Braises and Stews" by Tori Ritchie
Total Servings: 6
Nutritional Information Per Serving
Calories: 593.2
Carbohydrates: 67.4 g
Cholesterol: 94.1 mg
Fat: 15.8 g
Saturated Fat: 2.8 g
Fiber: 9.6 g
Sodium: 251.5 mg
Protein: 45.4 g