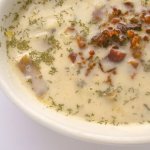 Potato leek soup truly satisfies and nourishes on those rainy, cold and wet days of autumn and winter. Salty, smoky bacon from pasture-raised hogs pairs beautifully with the soft flavors of leek, celery and potato while the vibrant addition of fresh dill brings the flavors together.
Ingredients
4 ounces pasture-raised bacon, fried and crumbled with fat reserved
4 leeks, rinsed well with white and light green parts sliced very thinly
1 pound waxy potatoes, scrubbed well and cubed
1 quart fresh chicken broth
2 bay leaves, preferably fresh though dried will do
2 cups fresh whole milk
1 bunch fresh dill, chopped fine
Unrefined sea salt and freshly ground white pepper, to taste
Cream fresche or sour cream, to serve
Instructions
In a heavy-bottomed soup pot, heat reserved bacon fat over a medium flame until melted and sizzling.
Add the thinly sliced leeks to the melted bacon fat and fry until they begin to soften and release their aroma, about five to six minutes or so.
Add one quart fresh chicken broth to the leeks and dump in the cubed potatoes and cover the pot.
Cook the potatoes, leeks and broth together over a medium-low flame until the potatoes are softened and tenderly fall apart when pressed with the tines of a fork, about thirty minutes.
Remove the soup from the flame and allow it to cool slightly, and then pour two cups fresh whole milk into the soup pot, stirring in the fresh dill as you go.
Season the mixture with unrefined sea salt and white pepper as it suits you, then serve the soup with plenty of crumbled bacon and a dollop of cream fresche or sour cream.
Total Servings: 8
Nutritional Information Per Serving
Calories: 185.5
Carbohydrates: 8.6 g
Cholesterol: 19.2 mg
Fat: 15.9 g
Saturated Fat: 5.5 g
Fiber: 0.8 g
Sodium: 36.3 mg
Protein: 2.4 g