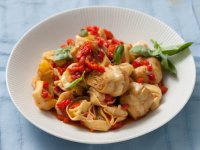 Ingredients

1 8- to9-ounce bag dried cheese tortelloni

1 12-ounce jar roasted red peppers, drained and chopped

2 6-ounce jars marinated artichoke hearts, drained

1/2 stick unsalted butter

1/2 cup chopped basil

Directions
Cook tortelloni in a pasta pot of boiling salted water according to package instructions.

While tortelloni boils, sauté red peppers, artichoke hearts, and ¼ teaspoon each of salt and pepper in butter in a large heavy skillet over medium-high heat, stirring occasionally, 4 to 5 minutes. Transfer sauce to a large bowl.

Reserve ½ cup pasta-cooking water, then drain tortelloni and add to red pepper-artichoke sauce along with some of reserved cooking water and basil. Toss well and season with salt and pepper. Thin with additional pasta-cooking water, if desired.

About this recipe
Bring the flavors of the Mediterranean to your dinner table any night of the week. This recipe is such a breeze, you'll almost feel guilty about how good it tastes. Almost, but not quite.

Enjoy All