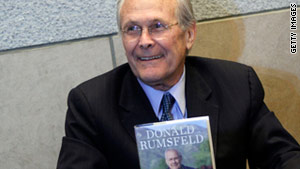 During Donald Rumsfeld's first public appearance since the release of his new book, he praised many former elected officials and a surprising number of them were Democrats.
A man who has been a Republican during his entire political career told a crowd of some 700 people at Philadelphia's National Constitution Center that the first politician to influence him was Franklin Delano Roosevelt.
"Franklin Roosevelt was the president, he represented the United States at war time. My parents, I and everyone I knew looked to him as the leader of our country and he was an enormously important figure for a young man," Rumsfeld said on the first stop of his tour promoting his memoir, "Known and Unknown."
A similar inspiration came just before his graduation from Princeton University, when Adlai Stevenson, the Democratic candidate for president in 1952 and 1956, came to speak.
"He gave the most eloquent and persuasive speech about public service that I had ever heard or will ever hear," Rumsfeld said.
"All of us came away with a sense of responsibility. One of the things he said was that young people in the country had a responsibility to help guide and direct the course of our country; that the power of the American political system is virtually without measurement and that if America were to stumble the world would fall. And it had an impact on me."
In 1962, when he was just 29 years old, Rumsfeld ran for Congress from Illinois. He said that John F. Kennedy's success as a young candidate for president two years earlier likely helped him in his race for Congress.
"The fact that we had such an attractive young president had an appeal in the district that made a kid 29 years old running for Congress look like maybe he could be a Congressman," Rumsfeld said.
He won the race and served more than three terms before President Richard Nixon brought him to the White House as director of the Office of Economic Opportunity.
It was in that job that he met Sammy Davis Jr., the entertainer who was also very interested in the battle against poverty.
Davis later was responsible for what may be one of the most unusual meetings of Rumsfeld's career.
Davis invited Rumsfeld and his wife, Joyce, to see an Elvis Presley show at a casino in Las Vegas. Rumsfeld has never seen Elvis perform or even heard him sing. But he quickly became a fan.
"He (wore) scarlet scarves, and he would wipe his face. He'd stand up there and sing and it was fantastic. He'd sing the most ridiculous thing in the world and people would cheer and yell and love it and I would sit there and go like this," Rumsfeld said, putting his head in his hands. "Then he would sing a ballad and it was absolutely beautiful."
After the show, Davis, took the Rumsfelds backstage to meet Elvis. Somewhere in the crowd, Joyce Rumsfeld lost track of her husband.
"Joyce gets carried away and she's talking to somebody and she couldn't find me. And she finally looked around the room and way off in the corner and Elvis Presley had me cornered. I was against the corner and he's big and he's like this and I was right behind him. He was talking about the United States Army," Rumsfeld said.
As for Elvis' famous scarlet scarves, one of them ended up with Mrs. Rumsfeld, and according to the former Secretary of Defense, "it's framed."