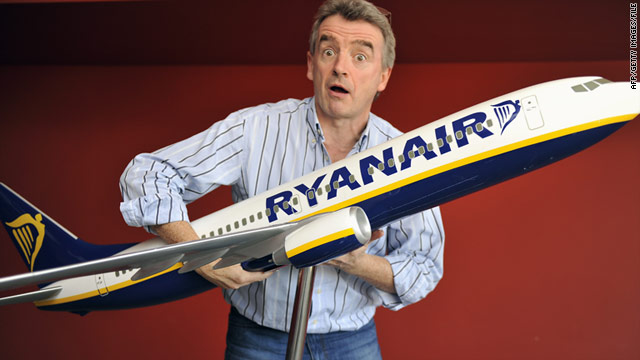 -- Call it Ryanair versus Belgian students, round two.
Days after a dispute over an an oversize luggage fee prompted the airline to kick dozens of the students off a plane, it's offering them a lesson on packing.
The YouTube video features a "master packer" cramming what's labeled as enough clothes for a two-week holiday into a small carry-on bag.
In a tongue-in-cheek statement posted Thursday on its website, Ryanair said the tutorial will help avoid unpleasant situations such as the incident on a flight from Lanzarote in the Canary Islands to Brussels, Belgium, on Saturday.
"Ryanair is today calling on Belgian universities to ensure no further embarrassing international episodes when their students travel abroad by providing them with an online tutorial in how to pack light," spokesman Stephen McNamara said.
"This tutorial will allow these students to comply with the airline policies they accept when booking a flight."
Ryanair allows each passenger to carry on one bag that weighs up to 10 kilograms (about 22 pounds) and falls within certain size dimensions. Any oversized baggage is refused during boarding and can be placed in the hold of the plane for a fee of 35 euros (about $47).
But dozens of Belgian students became "disruptive and refused to comply with crew instructions" after some of them were told to pay the fee, the ultralow-budget Irish carrier said in a statement this week.
When one of the students was held back at the gate for refusing to pay the charge, the others who were already on board refused to take their seats, according to The Daily Mail.
La Provincia, a newspaper in Las Palmas on the Gran Canaria Island, described the situation on board as "mutiny" and cited sources who said some of the students spat and hurled insults at Ryanair staff.
Things became so bad that the pilot requested law enforcement assistance as she was preparing for takeoff, the BBC reported.
When Lanzarote police arrived, they "required the entire aircraft be offloaded, each passenger identified. Following further disruptive behavior, the police required for security reasons that this entire group be refused travel," the airline said.
One hundred people were not allowed to fly after the disturbance. Ryanair apologized to the remaining 66 passengers who endured a three-hour delay while police dealt with the "disruptive group."
Ryanair is famous for its low base fares and variety of fees, a strategy that's earned it both lots of loyal customers and vocal detractors.
Michael O'Leary, the company's colorful CEO, has helped the airline get lots of free publicity by floating the concept of coin-operated lavatories, standing-only sections and other unconventional ideas.