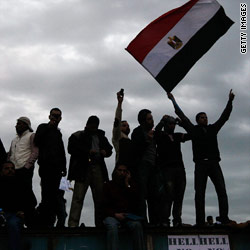 -- Negotiations could begin Saturday between Egypt's vice president and some opposition groups, as anti-government protests continue for a 12th day.
The mood in Cairo's Tahrir Square Saturday morning was tense, but peaceful.
Cars traveled over a nearby overpass. Outside the Egyptian Museum, people prayed as soldiers stood guard. Protesters who had spent the night swept sidewalks with palm branches and bought food from carts stationed in the square.
But hours earlier, gunshots rang out as protesters said scores of supporters of President Hosni Mubarak had tried to assault the square early Saturday morning. Troops fired into the air to disperse them, according to anti-government protesters.
Demonstrators in Cairo vowed to continue protests demanding Mubarak's resignation, and formed a new opposition group to represent anti-government demonstrators gathered in the square.
Mohamed ElBaradei's Association for National Change and the leftist Tagammu party's leader announced the new group of 10 people, which includes ElBaradei, Muslim Brotherhood leader Mohamed Beltagy and liberal Ghad party leader Ayman Nour.
Anti-government protesters in Egypt's northern port city of Alexandria said they were planning two demonstrations Saturday
Meanwhile, several opposition political parties that had previously refused to meet with the government told CNN they agreed to meet with Vice President Omar Suleiman on Saturday. And a senior U.S. official said the Obama administration was hopeful negotiations would begin Saturday between members of Mubarak's government and various opposition representatives.
"Based on promises that the government gave us that they will investigate into the Tahrir Square clashes, we agreed to meet tomorrow," Fouad Badrawi, secretary-general of the Wafd party, said Friday.
But some opposition groups have refused to negotiate until Mubarak steps down.
"The so-called dialogue is the first step to exhaust this revolution. The president must go," said Mohammed Habib, deputy chairman of the Muslim Brotherhood, an opposition Islamist group officially banned by the government.
On Friday, the central Cairo plaza transformed from a bloody battleground to the scene of a largely peaceful rally dubbed "Day of Departure," as protesters gave Mubarak until the end of the day to relinquish power.
Protesters did not get their wish, and thousands remained in the square well into the night, defying a curfew that has been widely ignored.
In another plaza just half a kilometer away from Tahrir Square, supporters and foes of Mubarak fought running street battles Friday. Youths wielding sticks and rocks engaged in fights as the sound of gunfire rang out.
The Muslim Brotherhood reported that a security force accompanied by a "gang of thugs" stormed the office of its news website Friday and arrested the journalists, technicians and administrators. The Al-Jazeera news network reported a similar attack on its Cairo office.
Those attacks came after two days of violence and a government crackdown on journalists and human rights activists bearing witness to the crisis. Some had predicted the demonstrations might lose their momentum.
That was hardly the case, as anti-government protesters jammed the square chanting slogans such as, "The blood of the martyrs will not be forgotten." A massive banner in the middle of the square said in English: "The people demand the removal of the regime." People played music, sang patriotic songs and danced.
It was a remarkable change from the scenes that unfolded in the square Wednesday and Thursday, when pro- and anti-Mubarak supporters clashed repeatedly, leaving at least 11 people dead and more than 900 others injured.
The Health Ministry reported that at least 5,000 people have been injured since the demonstrations began in Egypt early last week.
Many believe the violent clashes were orchestrated by the embattled regime and on Friday, the United Nations Office of the High Commissioner for Human Rights called for a "transparent and impartial" probe.
Defenders of Mubarak were notably absent from the square Friday. Instead, they staged a "Day of Loyalty" rally at a nearby mosque.
Mubarak has said he will not seek another term in the September election, but now faces increasing pressure from the United States and other world powers to step aside much sooner.
Egyptian Prime Minister Ahmed Shafiq told the Al-Arabiya network that it would take until September to work out constitutional issues so that a new government could come to power.
At this juncture, Shafiq said, compromises were key as the country pursues dialogue with opposition groups.
Opposition leader ElBaradei told CNN's Eliot Spitzer late Friday that he has been in contact with various parties, united in their belief that Mubarak must go.
"We have been in agreement right now that we'd probably have a presidential council of three members including somebody from the army. We have a caretaker government ... who would then run the country for a year, prepare the grounds for the necessary changes in the electoral process to ensure that we will have all what we need for a free and fair election," he said.
Mubarak told ABC News Thursday that he would like to step down right away, but cannot because he does not want to risk plunging his nation into chaos.
"I don't care what people say about me," Mubarak told ABC. "Right now I care about my country, I care about Egypt."