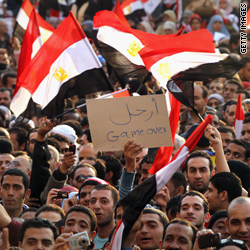 -- Egypt's vice president said the massive calls for President Hosni Mubarak's ouster are disrespectful to the country as a mass of protesters maintained their ground Wednesday at the epicenter of the demonstrations.
"The word 'departure,' which is repeated by some of the protesters, is against the ethics of the Egyptians because Egyptians respect their elders and their president," Vice President Omar Suleiman told a group of newspaper editors Tuesday, according to an official state press agency. "It is also an insulting word not only to the president, but for the people of Egypt as a whole."
Suleiman also said that the large presence of demonstrators and some satellite TV channels are making people reluctant to go to work.
But on Wednesday morning, protesters united in Tahrir Square for a 16th day of demonstrations. A massive Egyptian flag was sprawled across part of Tahrir -- which means "liberation" or "freedom" in Arabic.
Thousands jammed the square on Tuesday, dismissing the embattled regime's pledges of constitutional reforms. Some were galvanized by the words of a freed Google executive. A second front sprouted as several hundred protesters filled the city block where Egypt's parliament building stands.
Wael Ghonim, the Google executive who was seized January 28 and released Monday, could be emerging as a face for Egypt's uprising. After a television interview that inspired protesters, Ghonim spoke from a makeshift stage Tuesday in Tahrir Square.
"This country, I have said for a long time, this country is our country, and everyone has a right to this country," he said. "You have a voice in this country. This is not the time for conflicting ideas, or factions, or ideologies. This is the time for us to say one thing only, 'Egypt is above all else.'"
Ghonim, a Dubai-based marketing executive, is the administrator of a Facebook page called "We are all Khaled Said," named after an Alexandria activist who was allegedly beaten to death by police. The page is widely credited with calling the first protest January 25.
Another Facebook page created to authorize Ghonim to speak on behalf of the protesters has 150,000 fans.
"I came today for the first time (Tuesday)," said Dalia, a protester in Tahrir Square. She did not give her last name. "Nothing will make this regime go unless we keep on coming and keep on coming."
In the comments reported by state media, the vice president said "dialogue and mutual understanding are the first way to achieve stability" and that a coup would lead to more "irrationality."
Human Rights Watch said Wednesday that Egyptian authorities have arbitrarily detained at least 119 people since January 28 and tortured them in at least five cases.
On Tuesday morning, Suleiman announced on state television that a committee has been authorized to amend Egypt's constitution to allow for free, fair and competitive elections. The amendments, Suleiman said, would be drafted by an independent judicial commission.
He said he had discussed a number of reforms in recent talks with opposition representatives. Among them were greater freedom for the media, the release of detainees and the lifting of the continuous state of emergency.
He also assured Egyptians that they should not fear arrest for speaking their minds.
But with the credibility of the regime in serious question, the statements from Mubarak's deputy fell short. Real change, say Mubarak's foes, can only come with Mubarak's immediate departure and an overhaul of the constitution, not amendments here and there.
"That's not good enough," said Mohammed Habib, a leader of the Muslim Brotherhood, a key opposition party in Egypt that is outlawed by the constitution on grounds that it is based on religion.
"The first thing that the regime should do is for the president to leave," he said. "The government is dividing the opposition through these announcements."
Asem Abedine, head of the pan-Arab Nassiri party, said Mubarak is merely angling for time.
"The government is only making these announcements to avoid making real changes demanded by the people," he said. "The emergency laws should be lifted."
Mubarak has ruled Egypt with an iron hand since 1981, aided by an emergency decree that gave him sweeping powers.
Since the protests began January 25, he has appointed a vice president for the first time, reshuffled his Cabinet and announced that he won't seek a new term in September.
However, the constitution remains, reshaped in 2005 and again in 2007 to help retain power for the ruling National Democratic Party.
It has been at the heart of the dialogue between the government and some opposition representatives, who want several articles amended to make way for greater political participation.
The demonstrations got an extra shot of energy Tuesday from Ghonim's interview on Egypt's Dream TV.
He said four people surrounded him at 1 a.m. on January 28.
"I yelled, 'Help me,' but of course I knew these were security forces.
"The thing that tortured me the most when I was in detention was that people would find out that I was the admin (of the Facebook page)," he said. "Because I am not the hero -- I was writing with the keyboard on the internet and my life was not exposed to any danger."
He walked out of the Dream TV interview in tears after being shown photos of those killed in the uprising.
"I want to say to every mother and every father that lost his child, I am sorry, but this is not our fault," he said before leaving. "I swear to God this is not our fault. It is the fault of everyone who was holding onto power greedily and would not let it go."
But while the crowds remained large and boisterous, opposition voices have started to splinter.
Some, including members of the self-declared Council of the Wise, have said they don't agree that Mubarak's immediate departure would be the best thing for Egypt.
Arab League Secretary-General Amre Moussa, who was among protesters last week, told CNN that Mubarak should be allowed a "dignified exit" in September.
"I believe that the president should stay until the end of his mandate. The consensus is growing on this point because of certain constitutional considerations," Moussa said.
State television in Egypt has suggested that the United States is helping fund the protests, which -- it says -- have been infiltrated by Hamas, Hezbollah, Iran and others.
The divisions within the opposition raised fears that they could work to the regime's advantage.
"The danger at the moment is that this opposition, which a few days ago seemed to unite, is now being divided," said Cairo-based analyst Issandr El Amrani. "The regime is using its tried and true tactic of divide and conquer."