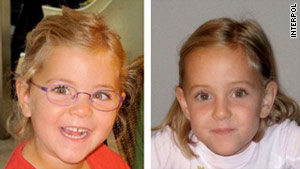 Alessia, left, and Livia Schepp were abducted by their father a week ago.
-- Police in three European countries were looking Sunday for 6-year-old twin girls abducted by their father, who was found dead last week.
Interpol issued an international Yellow Notice missing persons alert Saturday for Alessia and Livia Schepp. Such notices are distributed to police in Interpol's 188 member countries to help find missing people, especially children.
The Schepp sisters were reported missing January 30 after their father, Matthias, took them from their home in St. Sulpice, near Lausanne in western Switzerland, Interpol said. He took the girls following personal problems at home, according to the state police in Vaud, which covers the area of St. Sulpice.
State police said Schepp drove through Marseilles, France, on Tuesday. Two days later, police in Bari, Italy, found the father's body, but there was no sign of the girls.
A spokesman for the Vaud state police said the investigation is focused on Switzerland, France and Italy.
Both girls are blonde and about 3 feet, 9 inches tall, Interpol said. When they were taken, Livia was wearing a green T-shirt, jeans, a violet ski jacket, and Adidas sneakers. Alessia was wearing a T-shirt with red and white stripes, jeans, a brown jacket, and black shoes.