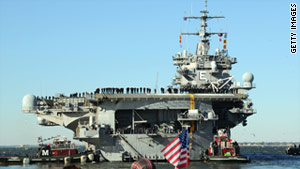 -- The Navy captain whose high-flying career was clipped over his raunchy videos shown aboard the USS Enterprise now says his superior officers knew what he was doing and repeatedly praised him.
Capt. Owen Honors defiantly defends himself in a 15-page written statement to investigators, saying the videos prompted not a single complaint and had the "affirmative and tacit approval" of senior Navy leadership.
"Their consistent encouraging feedback constituted approval and affirmation that my conduct was within acceptable Navy standards as the ship's Executive Office," Honors writes in his declaration, first made public by the Navy Times. Its legitimacy has been confirmed by CNN.
"These leaders understood the challenges we faced on Enterprise and understood the context and training purposes for the skits," he writes.
"I was neither formally counseled nor told to stop producing the videos," the statement says.
Honors, a former "Top Gun" fighter pilot, decorated combat veteran and highly praised officer, was second in command of the aircraft carrier when he created and starred in the videos in 2006 and 2007. Honors said they were never intended for public consumption and were created only for the ship's closed-circuit television system to introduce the movie of the week. He maintains they successfully kept morale high on board the Enterprise and conveyed serious information about important issues such as safety, water conservation and responsible alcohol consumption.
The videos included obscenities, a variety of other objectionable material including partial nudity, homophobic jokes and simulated masturbation. But Owen said in his statement that his "PG-13 adult level humor" of his amateur video skits was less offensive than the R-rated commercial movies they preceded.
"Is one to reasonably believe that no command-sponsored movie or television show contained dialogue (that) used the word 'fag' or made other disparaging remarks about homosexuals, addressed or simulated mastibation (sic), or used expletives?" Honors wrote. "Which is more offensive to Sailors and less compatible with Navy standards -- full frontal nudity in a feature film or simulated nudity in a video intended to reduce onboard water consumption?"
Honors was later promoted to command of the Enterprise. The release of the videos by The Virginian-Pilot newspaper a few weeks ago prompted the Navy to permanently relieve him of command.
"While Capt. Honors' performance as commanding officer of Enterprise has been without incident, his profound lack of good judgment and professionalism while previously serving as executive officer in Enterprise calls into question his character and undermines his credibility to continue to serve effectively in command," Adm. John Harvey, commander of the Fleet Forces Command, said in announcing Honors' removal.
"After personally reviewing the videos Capt. Honors created while serving as executive officer, I have lost confidence in his ability to lead effectively, and he is being held accountable for the poor judgment and inappropriate actions repeatedly demonstrated in those videos," Harvey said.
A Navy spokesman said Tuesday the investigation is ongoing with no specific date for its completion. The Honors statement again raises question about whether other Navy officers will be drawn into the probe.
One of Honor's superiors, Rear Adm. Lawrence Rice, who was the commanding officer on the Enterprise when videos were shown, has seen his retirement deferred while the investigation continues. Rice was set to retire this week.
Rice ranked Honors as "greatly exceeds expectations' in an evaluation for 2006 to 2007 -- the period of the videos -- for all performance categories and said he was "a peerless leader," "the heartbeat" of the ship and the cornerstone behind its success.
"Absolutely sterling performance in the Navy's most challenging billet afloat," Rice wrote in his comments about Honors in a document first published by the Navy Times. "Over the past year, he transformed Enterprise and the crew into an immaculate, fully mission capable, combat ready nuclear powered warship manned, trained and ready for deployment."
In his statement to investigators Honors said he believes he knows who leaked the edited videos and why.
"Not for any pure purpose, it was an attempt to shift the focus from misconduct for which I had previously imposed NJP (non-judicial punishment) and for which investigation for further misconduct with a view toward court-martial was already underway," Honors wrote. "If I am correct, as I believe that I am, then the miscreant was successful in removing me from command in furtherance of a personal agenda."