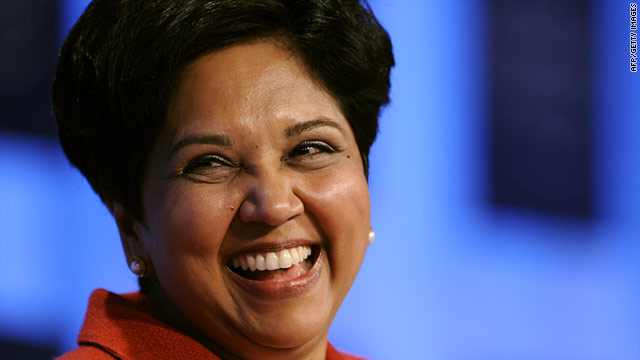 -- The head of one of the world's largest soft drinks companies has praised U.S. President Barack Obama's backing for big business throughout the global economic crisis.
Indra Nooyi, CEO of PepsiCo, said that although Obama had faced criticism from Republicans for his lack of action on industry, he had actually been a great support.
"I think President Obama ... has always been a friend of business. I think business didn't feel that way because he had so many issues to address," she said, speaking at the World Economic Forum in Davos, Switzerland.
"He's always had a dialogue with business, it's just that his policy options were highly limited."
The PepsiCo chief also heaped praised on Russian Prime Minister Vladimir Putin for his willingness to encourage trade.
"The Russian government is very pro-foreign investment," she said. "Prime Minister Putin chairs the foreign advisory committee, he shows up at every meeting, he listens to what people have to say, and he acts on it -- I can't say that for too many governments."
Nooyi and her counterpart at Coca-Cola, Muhtar Kent, have both called on business and governments to work together to ensure a sustainable economic recovery.
The competitors agree greater cooperation between corporations and political leaders will be key in the months and years to come.
"At the end of the day, government can't do it alone, business and government have to collaborate so that we can reduce the jobless rate, bring unemployment down, start increasing a much more inclusive society," Kent said.
And Nooyi added: "I think private enterprise is the engine of growth for every country, and if the leaders of every country don't view their job as geopolitical but also commercial, it doesn't work."
Nooyi said her company's strategy for continuing success would be to maintain its varied interests.
"I look at PepsiCo as a natural hedge -- a portfolio hedge, a geographic hedge -- at any point in time, some market is doing well and some region is slowing down -- the challenge is to make sure that we have a balanced portfolio so that we can weather any of these storms," she said.
Coca-Cola's Kent said the future was looking more promising -- both for his company and for the U.S. economy as a whole -- with improved consumer confidence and mobility boding well.
And he insisted that innovation would be of huge importance for the continued success of both.
"The United States has the best demographics in the Western world -- it's a young population, a diverse population, which leads to better ideas. It breeds an entrepreneurial spirit, it breeds innovation and I think it needs to be supported further in order to create, to innovate ahead of the trend.
"As companies work closer with the government, we will see more innovation that will lead to more jobs, and that will lead to more exports and to a sustainable recovery," he told CNN.