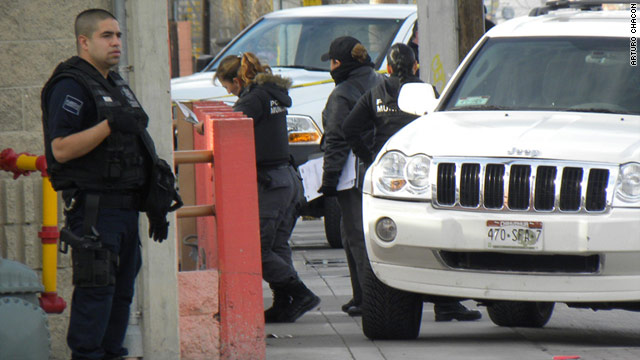 -- Three teens, one a U.S. citizen, were killed in the Mexican border city of Ciudad Juarez this weekend, a spokesman with the Chihuahua state prosecutor's office said Monday.
The killing was the first case this year of an American student being killed in Juarez, which has been beset recently by violence and is just across the border from El Paso, Texas, spokesman Arturo Sandoval said.
The shooting happened at 4:22 p.m. Saturday at a car dealership, where the teens were looking at cars, according to Sandoval. Police recovered at least 18 bullet casings at the scene from an AK-47, an automatic weapon commonly used by drug traffickers in the city.
Two of the victims were born in Ciudad Juarez and were identified as Carlos Mario Gonzalez Bermudez, 16, and Cesar Yalin Miramontes Jimenez, also 16, according to Sandoval.
The other victim, identified as Juan Carlos Echeverri Jr., 15, was born in El Paso, the prosecutor's spokesman said. The teen's parents identified his body over the weekend and confirmed that he was an American citizen.
Virginia Staab, a spokeswoman for the U.S. State Department, said Monday that U.S. authorities are actively looking into the incident and had not yet confirmed the citizenship of any of the victims.
At least one of the victims attended a Juarez prep school called Tecnológico de Monterrey, Sandoval said.
A message on the website of Cathedral High School in El Paso asked students and families to remember Bermudez and said he was a sophomore. His fellow students had an assembly and prayer service in his honor Monday morning, the El Paso Times reported.
"We believe (Echeverri) and the two others had been friends for a long time. He was here in the city to visit them," Sandoval said.
The fatal shootings come on the heels of numerous similar violent incidents in recent months in Juarez. In one 48-hour span last week, for instance, at least 14 people were killed -- including a municipal police officer and a newspaper vendor who police believe was targeted due to her job, according to Juarez Police spokesman Adrian Sanchez.