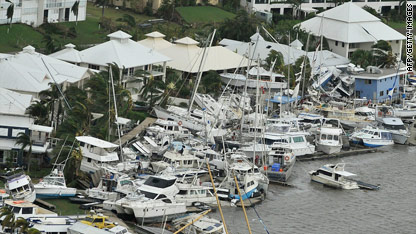 Cyclone Yasi was 'absolutely terrifying' - CNN.com
-- Residents of northern Queensland, Australia, woke on Thursday morning to destruction wrought by Cyclone Yasi, the biggest storm to ever hit the region.
"It was absolutely terrifying," said Frank Russo, a journalist for the Innisfail Advocate who was in the town of Garradunga, a suburb of Innisfail, around 24 miles (40 kilometers) north of the eye of the storm.
With winds gusting up to 186 miles per hour (300 kilometers per hour), Russo was with his parents in their two-story "Queenslander"-style house when the category 5 storm hit.
"The winds here didn't really pick up until midnight; that's when they were at their worst. It was like having big jet engines outside your house," he said.
"You'd have things crashing into your roof. We heard a clicking that sounded like iron flying in the air, and we thought it was our roof; we thought it had gone. To be honest, I didn't have much hope for this place.
"But we were very lucky. We woke up this morning -- I only had around half an hour's sleep -- and had a look around and our roof actually stayed on."
After driving into Innisfail on Thursday morning, Russo reported that only one roof had been torn off, and damage was surprisingly light in the town.
The area's banana and sugar cane crops however are thought to be completely destroyed.
The previous category 5 cyclone to hit the region was Cyclone Larry in 2006. Compared to that storm, Innisfail had come through the storm relatively unscathed, said Russo.
Townsville resident Caillin Peacock said that he thought around 80% of trees had gone from the streets there and that there was some superficial damage to buildings. Only 10% of the city has power, he said.
There are currently no reports of any serious injuries or deaths from the cyclone.
"Everybody is so relieved about that," said Russo, who has been able to use the internet and has been checking in with friends and family through email and social networking websites.
Mobile networks are functioning, but coverage is poor, he said.
The storm's center passed through the region of Mission Beach and the town of Tully 40 miles (65 kilometers) south of Innisfail where the damage is reported to be much greater. Residents hundreds of kilometers away from the Queensland coast had also prepared for the worst as the 250 mile-diameter (400 kilometer-diameter) cyclone swept inland.
Carly Wallace, a resident of Tolga, approximately 60 miles (96 kilometers) inland from Innisfail, weathered the storm at home with her sister and family.
"From 10.30 p.m. (local time) it started to pick up and the winds started to get really strong. There was a lot of stuff going across our roof. It was pretty scary," she said.
Electricity to the house and phone lines were lost at around 11 p.m.
"It was hard to get any rest. We tried to sleep, but would wake up from the strong winds howling and the windows rattling.
"I've never been through anything this extreme; the buildup was so big -- the satellite images of it all and the media hype," she said.
Winds were still gusting on Thursday morning when Wallace left the house to assess the damage to her house and yard.
"We feared for the worst, but it turned out to be okay, and we're very lucky. Tings aren't as bad as they are around Innisfail and Tully," she said.
"Everyone's trying to see if petrol stations are open so they can run generators. We went looking for ice, but we found there wasn't anything like that open. It's pretty much deserted."
Driving to the nearby town of Atherton, Wallace did find the local grocery store open with few provisions and two pubs serving.
"If the pubs are open, that's a good thing for the country," she joked.