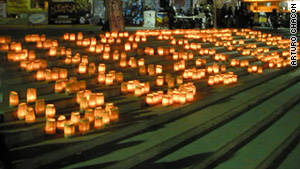 -- Dozens of people attended a memorial in Ciudad Juarez, Mexico, commemorating the one-year anniversary Sunday of a house party massacre that left 15 people dead.
The incident shook a country that has become increasingly used to violent scenes.
The January 30, 2010, Villas de Salvarcar neighborhood house party slayings of 15 people -- most of whom were students with no ties to organized crime -- sparked outrage across the country and prompted multiple visits to the city by President Felipe Calderon. Fighting organized crime has been a focal point of Calderon's administration, but before the killings Calderon was criticized for not visiting Juarez enough.
The killings were thought by officials to be the result of bad intelligence by the cartel and by the gang that carried out the slayings.
The mood at Saturday's memorial was mixed, with some maintaining hope for the city's future and others indicating they had given up hope long ago, according to local journalist Arturo Chacon, who attended the event.
One of the most ominous messages was written in black marker on a white bed sheet and tied to a fence. "Do not worry about my future because here I do not even have a present," it said.
Photos of the victims illuminated by candles were pasted on the walls inside a residence once splattered with blood from the shootings. Family members and friends held poster boards with messages and photos remembering the victims in better days.
Earlier this week, Mexico's first lady, Margarita Zavala de Calderon, visited the high school where some of the victims were enrolled. She also met with survivors and relatives of the students.
Seven suspects were arrested in the crime and one was killed in a shootout with authorities.
In 2010, more than 3,000 people were killed in Juarez, making it the deadliest year for any city affected by Mexico's drug violence.