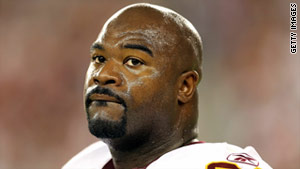 -- Washington Redskins defensive lineman Albert Haynesworth is named in a misdemeanor assault warrant accusing him of punching a motorist who had complained the NFL player was tailgating, a police spokeswoman said Friday.
A Fairfax County magistrate issued the simple assault warrant Thursday night, police spokeswoman Mary Ann Jennings said.
Haynesworth's agent, Chad Speck, said it was the other driver who instigated the incident and called the accusation "ridiculous."
The incident between Haynesworth and the motorist, whom police declined to identify, occurred Wednesday as the two drove on the Fairfax County Parkway.
The motorist told police the driver of a pickup truck -- later determined by police to be Haynesworth -- was tailgating him, so he delivered a "non-verbal hand gesture" to the driver, Officer Shelley Broderick said.
The man told police that when the two stopped at a red light, Haynesworth got out of the truck and the two briefly exchanged words before Haynesworth threw a punch, according to Broderick.
The man called police. After making a statement, he drove himself to a hospital for treatment of minor injuries, Broderick said.
Speck said Haynesworth has not yet told his side of the story to police.
"If contacted by the authorities, Albert will certainly cooperate in any way," Speck said in a statement e-mailed by his office. "This man, who actually provoked the situation himself, recognized Albert and is now simply trying to turn it into his 15 minutes of fame and get, we can only assume, some money."
The warrant allows Haynesworth to turn himself in and simply sign a summons promising to appear in court, Broderick said.
In Virginia, simple assault is a misdemeanor punishable by up to 12 months in jail and a $2,500 fine.